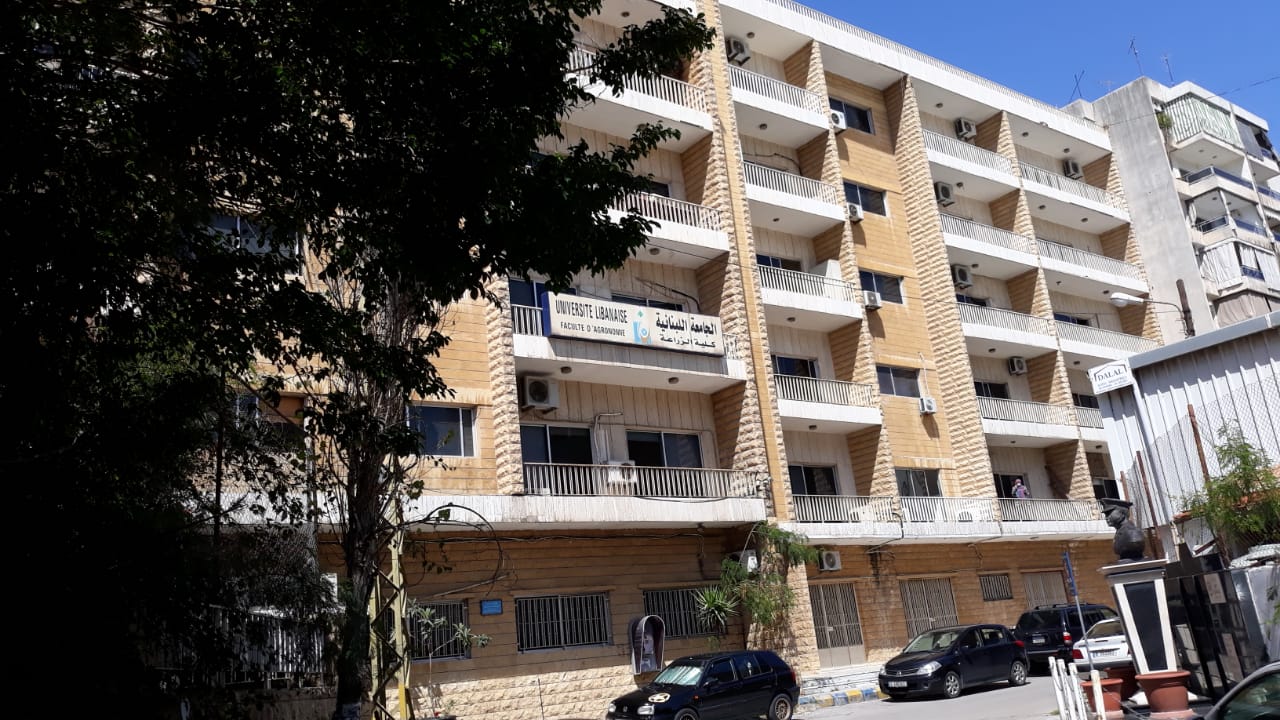 The Lebanese University - Faculty of Agronomy was established under Decree No. 9306 dated 21/10/1974, and became operational at the beginning of the academic year 1985-1986 in the major of Agricultural Engineering.
With the beginning of the academic year 1996-1997, the Faculty branches were merged (Branch 1 in Beirut, UNESCO and Branch 2 in Sin El Fil, Horch Tabet). The Faculty then relocated to its current building in Dekwaneh in 2006 and teaching began in the major of Veterinary Medicine in the academic year 2006 - 2007.
"Ghazir Center for Scientific Research and Training" is affiliated to the Faculty and became operational in 2008. The Center is a leading site involved in scientific experiences in the field of agricultural, animal and food production and the development of agricultural knowledge, in addition to the services it provides to the agricultural sector in Lebanon.
The faculty also includes laboratories in physics, food technology, food processing, natural microbiology, soil, plant protection, plant production, environmental engineering, chemistry, basic science, veterinary, animal production, and atomic absorption.
Available Specializations
Agricultural Engineer Diploma
1. Agricultural Economics
2. Environmental Engineering
3. Environmental / Forestry Engineering
4. Geoscience & Natural Resources
5. Landscape Engineering
6. Territorial/Landscape and Heritage Engineering
7. Plant Production
8. Plant Protection
9. Food Science and Technology
10. Animal Science and Technology
Veterinary Diploma
1. Poultry & Cattle Medicine
2. Pet Medicine
3. Quality Control of Foodstuffs of Animal Origin
Admissions
General conditions + Competitive Entrance Exam (CEE)
Successive Directors – Branch 1
· Dr. Jamal Bourji: 1987 – 1992
· Dr. Ibrahim Hrajli: 1992 - 1996
Successive Directors – Branch 2
· Dr. Amal Saad: 1985 – 1988
· Dr. Khalil Bitar: 1988 – 1994
· Dr. Samih Hajj: 1994 – 1996
Successive Deans
· Prof. Mouin Hamze: 1985 - 1998
· Prof. Elias Nasrallah: 1998 – 2001
· Prof. Mustafa Mroueh: 2001 – 2006
· Prof. Zuheir Chokor: 2006 – 2008 (he was appointed President of the Lebanese University and assigned the tasks of the Deanship of the Faculty of Agronomy)
· Prof. Taysir Hamieh: 2008 – 2014
· Prof. Samir Al-Medawar: 2014 – 2020
· Prof. Nadine Nassif: 2020 – Present