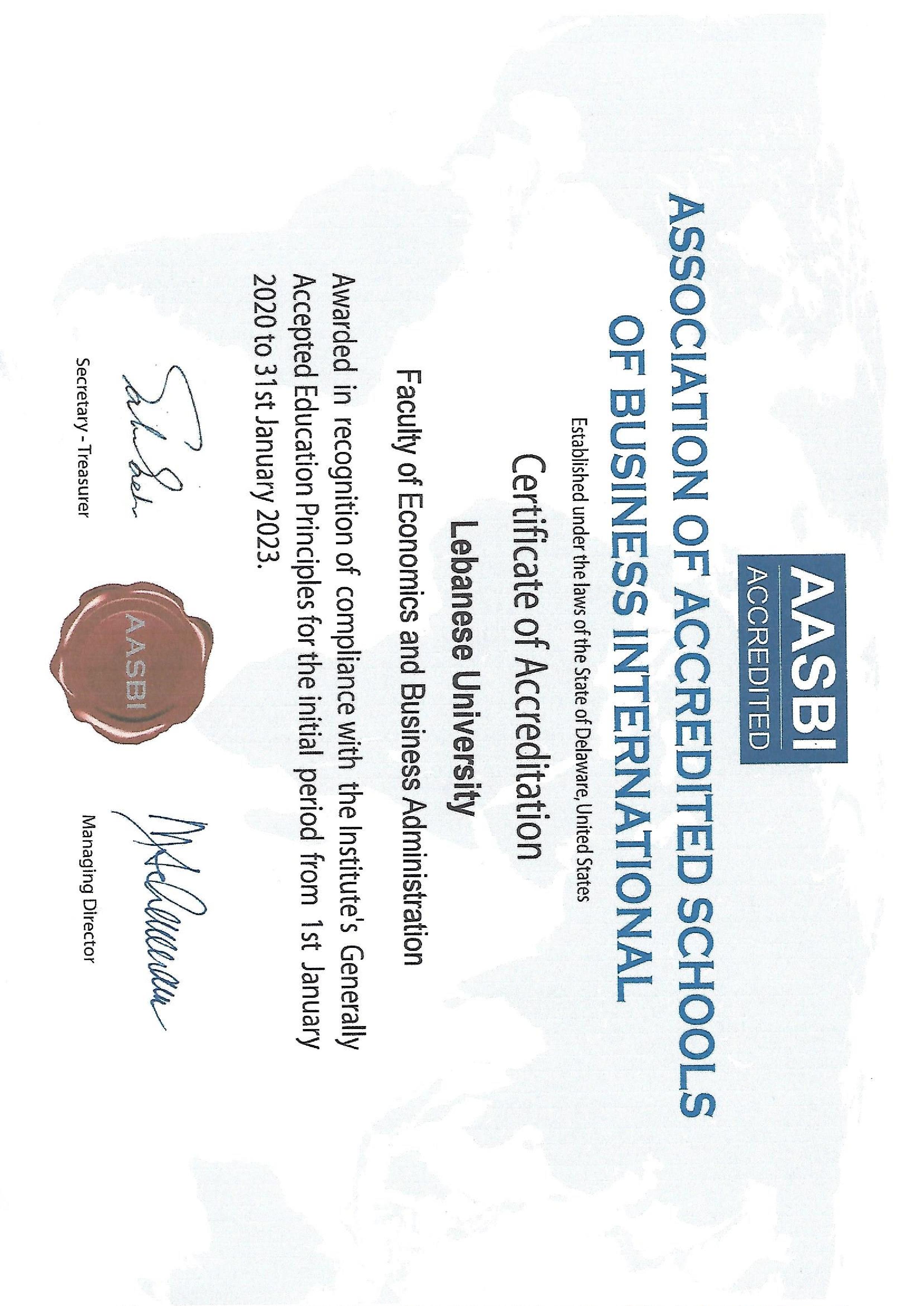 Join us on Facebook:

The Faculty of Economics and Business Administration was established in 1967 under the name "Faculty of Commerce" and was then renamed in 1970. It includes six geographically distributed branches: Branch 1, Beirut - Hadath, Branch 2, Achrafieh, Branch 3, Tripoli, Branch 4, Aley, Branch 5, Nabatieh, and Branch 6, Rashaya in addition to the Deanery in Rafik Hariri University Campus - Hadath.
The Faculty aims at developing highly skilled and specialized professionals in a field that has become the backbone of modern life, as economies are now intertwined due to globalization. The Faculty is keen to establish partnerships with enterprises of the public and private sectors, either for cooperation and staff training or for student internships.
In 2020, the Faculty obtained the certificate of accreditation from the "Association of Accredited Schools of Business" (AASBI), an American accreditation agency for business schools around the world, after presenting its candidacy for the first time.
The certificate, valid from 1 January 2020 to 31 January 2023, was awarded in recognition of compliance with the Institute's Generally Accepted Education Principles, in the fields of business administration science offered by the Faculty to its Bachelor and master's degree students.
Successive Faculty Deans:
· Kamal Bohsali:
· Saeed al-Bustani:
· Hachem Akil Haydar: 1975 – 1977
· Sami Nsairi: 1977 – 1985
· Mouin Hamza: 1985
· Najib Issa: 1985 – 1986
· Zouhair Chokr: 1986 – 1992
· Mohamed Marashli: 1993 – 1996
· Abdel Hadi Yamout: 1997 – 2000
· Nasrallah Nasrallah: 2001 – 2005
· Kamil Habib: 2005 – 2013
· Ghassan Shalouk: 2013 – 2016
· Khalil Feghali: 2016 – 2019
· Selim Mekdessi: 2019 – to date
The Faculty grants the following degrees:
Bachelor:
1. Economics
2. Accounting & Auditing
3. Finance & Financial Institutions
4. Management
5. Marketing
6. Computer Management
Master:
1. International Economics & Finance
2. Financial Economics & Banking
3. Accounting & Auditing
4. Finance & Financial Institutions
5. Management
6. Marketing
7. Computer Management
Admission
General conditions + Competitive Entrance Exam (CEE)
Updated: 18 June 2020