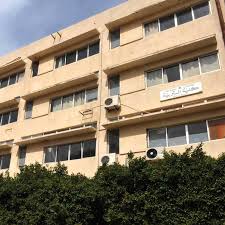 Branch 1 formed the first nucleus of the Faculty of Pedagogy and the entire Lebanese University. It was established in 1951 under the name "Higher Teachers' School" with the aim of preparing teachers for formal secondary education. It became later known as the "Faculty of Pedagogy" in 1967 after setting out its functions.
In 1979, the Faculty was reorganized after amendments made to its structure, functions, duration of study, certificates granted, and enrollment conditions.
The Faculty is considered the first faculty established in the Lebanese University, while Branch 2 was established in 1977.
Successive Directors
· Dr. Amani Kabbara: 1977 – 1983
· Dr. Ahmad Saidawi: 1983 – 1986
· Dr. Mariam Slim: 1986 – 1990
· Dr. Omar Al Hassan: 1990 – 1994
· Dr. Issam Jawhari: 1994 – 2000
· Dr. Chafik Radwan: 2000 – 2004
· Dr. Afif Abi Farraj: 2004 – 2005
· Dr. Adib Khattar: 2005 – 2010
· Dr. Nasser Al Batlouni: 2010 – 2015
· Dr. Adel Tarabay: 2015 – 2018
· Dr. Wassim Al Khatib: 2018 – 2020
· Dr. Salam Noureddine: 2020 – to date
Available Specializations
Bachelor's Degree:
1. Early Childhood Education – Arabic
2. Early Childhood Education – French
3. Early Childhood Education – English
4. Teaching Arabic at the primary level
5. Teaching French at the primary level
6. Teaching English at the primary level
7. Teaching Social Education at the primary level
8. Teaching Mathematics at the primary level – French
9. Teaching Mathematics at the primary level – English
10. Teaching Sciences at the primary level – French
11. Teaching Sciences at the primary level – English
12. Physical education and sports
13. Musical education
14. Art Education
Updated on 26 August 2020