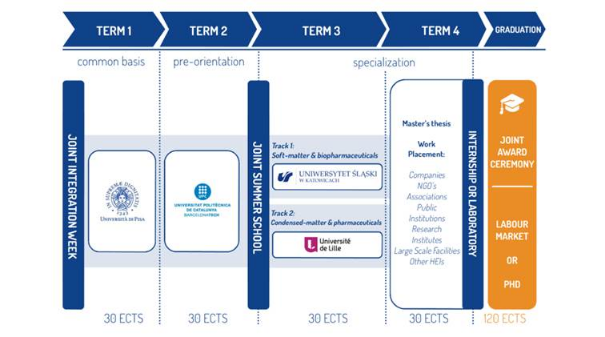 The European Master programme « BioPham (BIO&PHArmaceutical Materials science) » is a two-year (120 ECTS) programme entirely taught in English and jointly operated by the University of Lille (France), the University of Pisa (Italy), the University of Silesia in Katowice (Poland) and the Polytechnic University of Catalunya in Barcelona (Spain).
The Master's diploma is awarded after completion of 3 semesters, which consist of courses and one semester which consists of practical training / Master's thesis.
BioPham answers to an international demand for qualified graduates with theoretical and applied high-level training in materials science and physics & chemistry of materials and their applications to pharmaceuticals and biopharmaceuticals.
The second call for application to be a BioPham student in September 2022 will be open from 15th of March, 2022 – 00:00 Brussels' time to 15th of May, 2022, 23:59 Brussels' time.