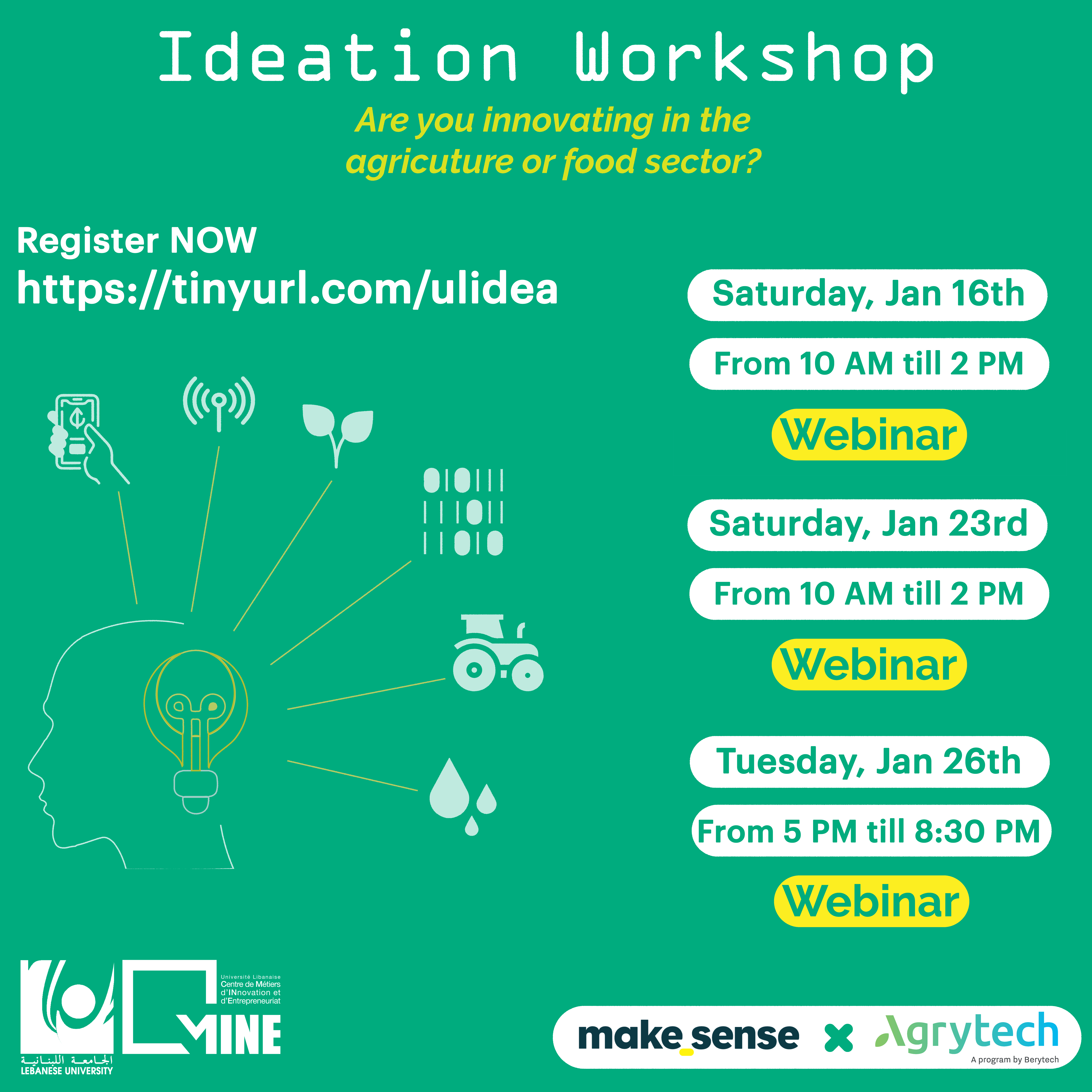 This program aims to assist agri-food innovators and startups in creating impactful sustainable businesses. We invite any person who has a creative solution solving a challenge in the food or agriculture sector, to join our ideation workshop!
During these 4 hours webinar, we will help you strengthen your project and build a strong application for the Agrytech program.
Who is this workshop for?
Any active citizens working on an agriculture or food project in Lebanon, from the idea / early-stage phase to an already-working solution that can be adapted to the agri-food industry. It will help you apply to the fourth batch of the Agrytech Program and maybe get up to $100k in funding and support to scale your business to success within 1 year.
Can I join alone?
Yes you can, and we will match you with other applicants. You will need to be a team of 2 minimum to be eligible for the Agrytech program.
What will happen during the workshop?
The workshop will last 4 hours.
You will first enjoy some short and fun team-building activities to connect with the community, and then go through various steps in order to mature/rethink your project. You will be supported by our team of facilitators who will help you go through each of the following steps:
· Which agri-food challenge is your idea solving?
· Exploring: why does this problem exist?
· Analyzing existing solutions
· Rephrasing the problem
· Finally, build an awesome pitch for your awesome project!
What is the outcome of the workshop?
The participants who will come up with an impactful pitch will be supported to apply to the Agrytech program (before 31st of January 2021)
How do I subscribe to the workshop?
You can subscribe here https://tinyurl.com/ulidea and we'll come back to you asap. Looking forward to meeting you all!
Schedule:
· Saturday Jan 16th from 10 AM till 2 PM
· Saturday Jan 23rd from 10 AM till 2 PM
· Tuesday Jan 26th from 5 PM till 8:30 PM
These workshops are powered by makesense.